Despite much controversy over the climate in Qatar, the strict rules on drinking, homophobic laws and the unlawful conditions in which the stadiums are being built there is no doubting how impressive these stadiums will look.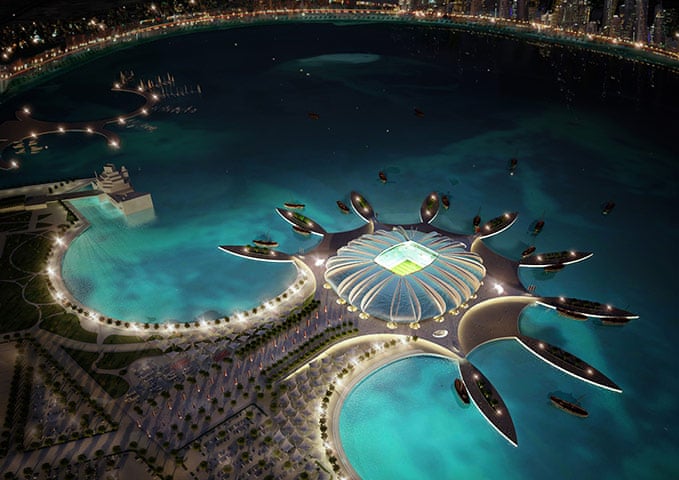 They are truly state of the art and possibly the most modern football stadiums built thus far. The stadiums are set to feature zero-carbon emitting technologies as well as climate control systems – to help players and fans bear the 40-degree peak heat in the summer, which some claim will be unplayable. Here is a look at the
3 most impressive stadiums that will host the latter, and most important of the World Cup games
.
Lusail Iconic Stadium
The stadium that is planned to hold the final is still in construction however we can still get a rendered image of how the final product will look. The stadium will hold a huge 86,000 people making it well deserving of an opening and final match. The behemoth will be surrounded by a moat in which fans will cross through grass bridges to enter the stadium.
Sports City Stadium
It's quite hard to explain this one – because it does really look like something from the future! This stadium will also be carbon-free of emissions and will supply its own energy throughout the stadium and to the power board throughout the nearby city. The stadium will not only be for events but will feature a water park, hotel, plaza, shopping centre and more giving it an all-in-one Vegas theme. The capacity will be in the region of 49,000.
Doha Port Stadium
Located in the heart of the capital and the most populous city in Qatar, this stadium will sit inside a port – making it one of a kind. The middle-east are known for their intricate land design whereby architecture is built on artificial land; however, this is a first for stadium. This 49,000 seater stadium will be built in a modular style meaning different sections of the stadiums can be removed or customised. This is the case for the majority of Qatar's stadium as they will be stripped down, removed and send to developing countries to form 22 new stadiums when the World Cup finishes.